Online Registration for Returning Bunker Hill CUSD #8 students is now live. Please check your Teacher Ease account for more information. As a reminder, there will be a walk-in registration on August 4, 2022 from 12:00 pm - 7:00 pm at each respective location.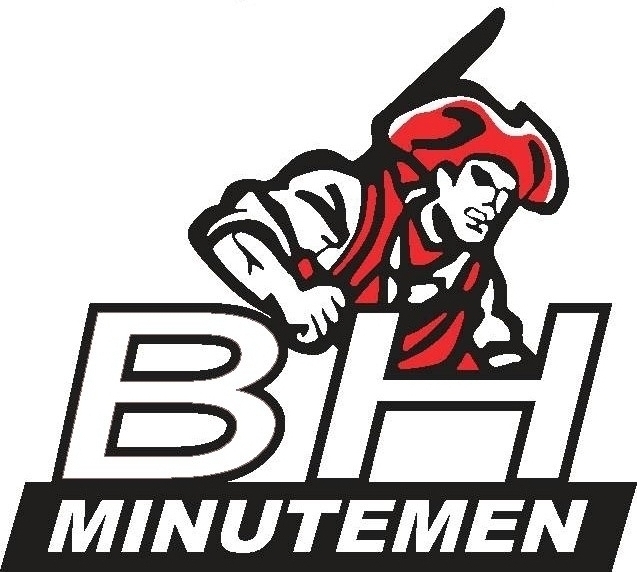 Tonight (Thursday, July 21, 2022): Regularly-scheduled Board of Education meeting at Bunker Hill High School MPR. Public BINA hearing. For agenda, please cick:
https://bit.ly/3uVLL4O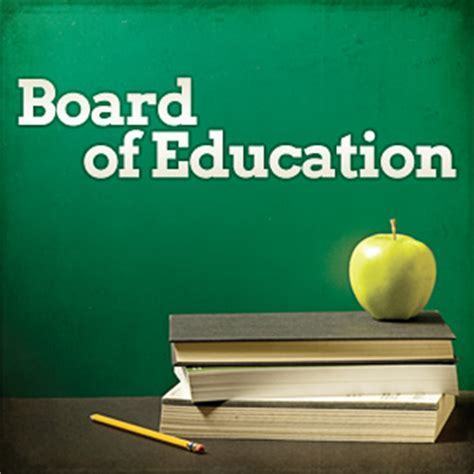 Due to the weather, the Bunker Hill Firemen's Parade has been delayed until 11:00 am this morning

Join the #BHill8 Team! The following vacancies are still posted for the 2022-2023 school year: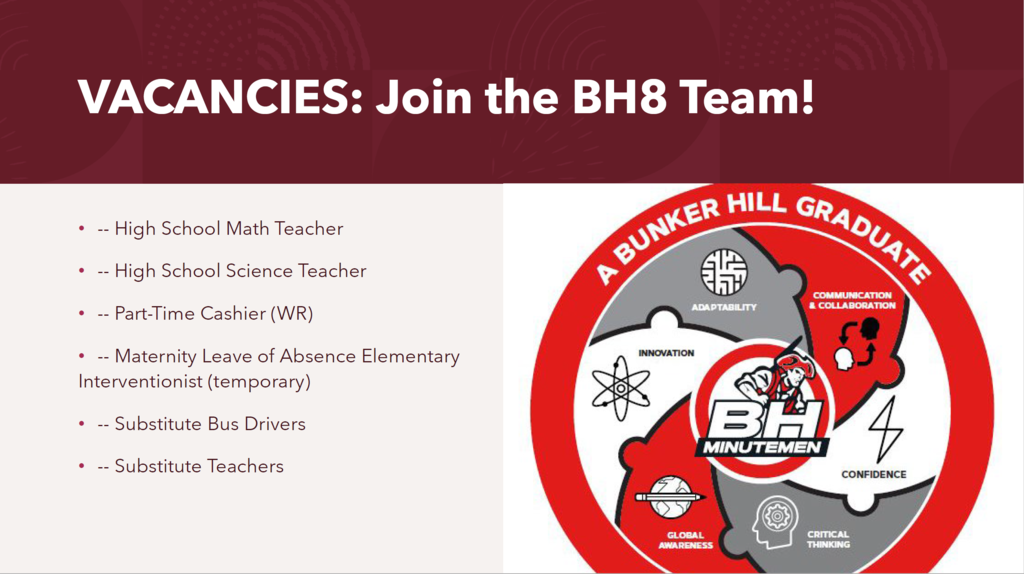 #Bhill8 Trap Team honored with a Board Salute for exemplary performance at State Trap and Skeet Meets!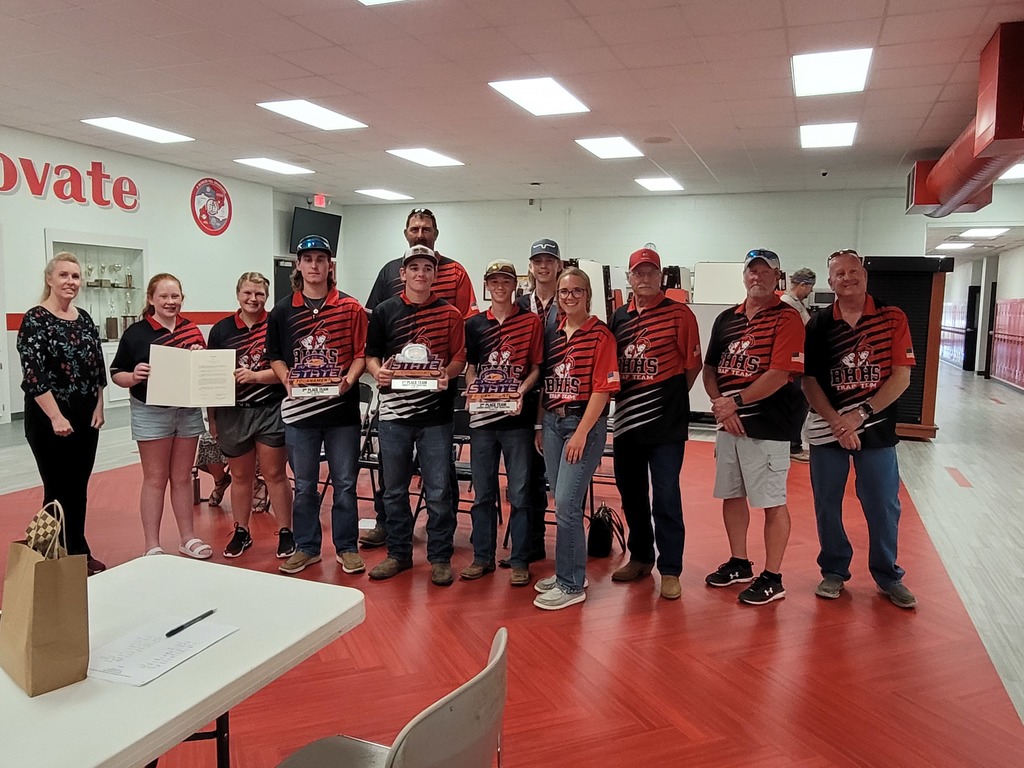 Tonight: Regularly scheduled Board of Education at 7:00 PM. Venue has been changed to Bunker Hill High School Multipurpose room due to Wolf Ridge Library remodel. For agenda, click:
https://bit.ly/3O94UHo

Substitutes needed at Bunker Hill CUSD 8!! Mark your calendars for next Thursday, June 23 from 5:00 to 7:00 PM at the Administration Office (504 E Warren Street) for the Bunker Hill One-Stop-Sub-Shop Event! Bring two (2) forms of ID and we will take care of the rest! On-site fingerprinting will be offered courtesy of the Regional Office of Education #40! This includes: -- Substitute Teachers -- Substitute Bus Drivers -- Substitute Support Staff (custodians, aides, secretaries, etc.)

Reminder: Our ribbon cutting and rededication of the BHHS Tennis Courts is scheduled for tomorrow (Thursday, June 16) at 4:00 PM.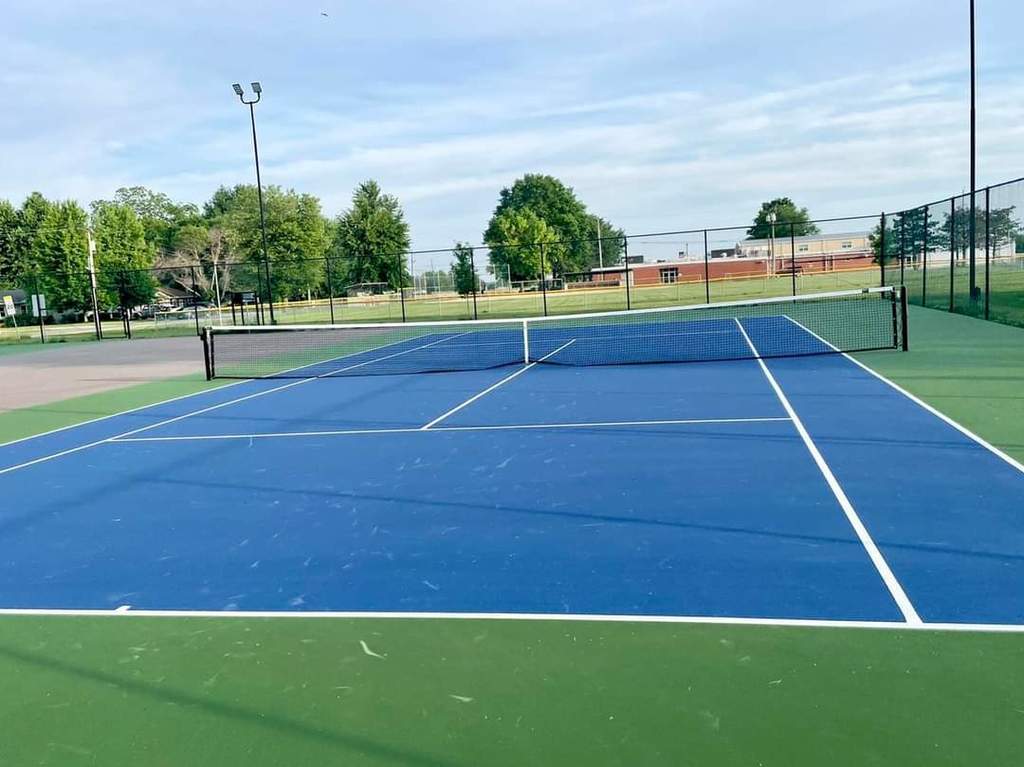 Ribbon Cutting for the newly refurbished BHHS Tennis Courts! Members of the community are invited to a re-dedication ceremony with the school district, the BH Chamber of Commerce, the Kiwanis Club, donors and supporters, as well as the students who started the whole project years ago. The ceremony will be held at the BHHS Tennis Courts on 314 S. Meissner Street at 4:00 PM on Thursday, June 16, 2022

Congratulations to the BHHS Skeet Team for placing 3rd place at State! Congratulations to senior Ty Zimmer for scoring 100/100, 1st place varsity male, 1st place overall at the Illinois State Skeet! #BHill8

#BHill8 is hiring! The following positions are still available to be filled for the upcoming 2022-2023 school year. More information can be found at:
https://bit.ly/3NP6y0B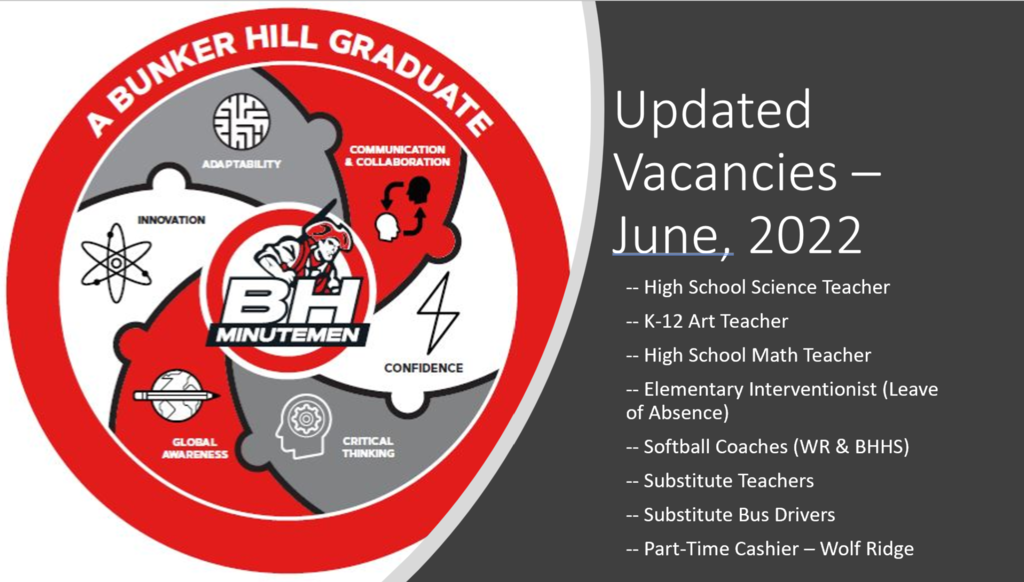 #BHill8 Schools have teamed up with our community partner the Bunker Hill Library to assist with the summer reading program. More than ever, reading is needed to minimize the typical "summer slide" and the district is proud to support this local program! Sign up for the Summer Reading Program at the Bunker Hill Public Library this year for a chance to win Cardinal's tickets, get a free school t-shirt, and TONS of other awesome prizes! Use the QR code or this link to register today!
https://forms.gle/pZov1iWNGtv1L6XS9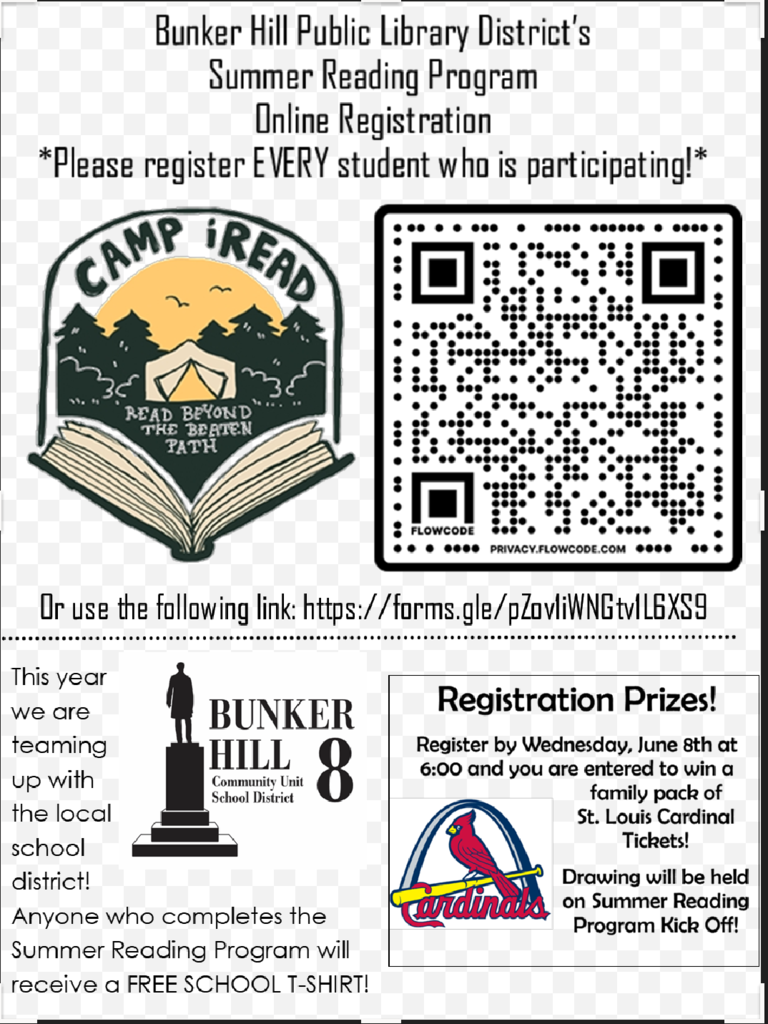 Board Salute to our 7th Track athletes for outstanding sectional performance and state qualifiers! #BHill8 is proud of you!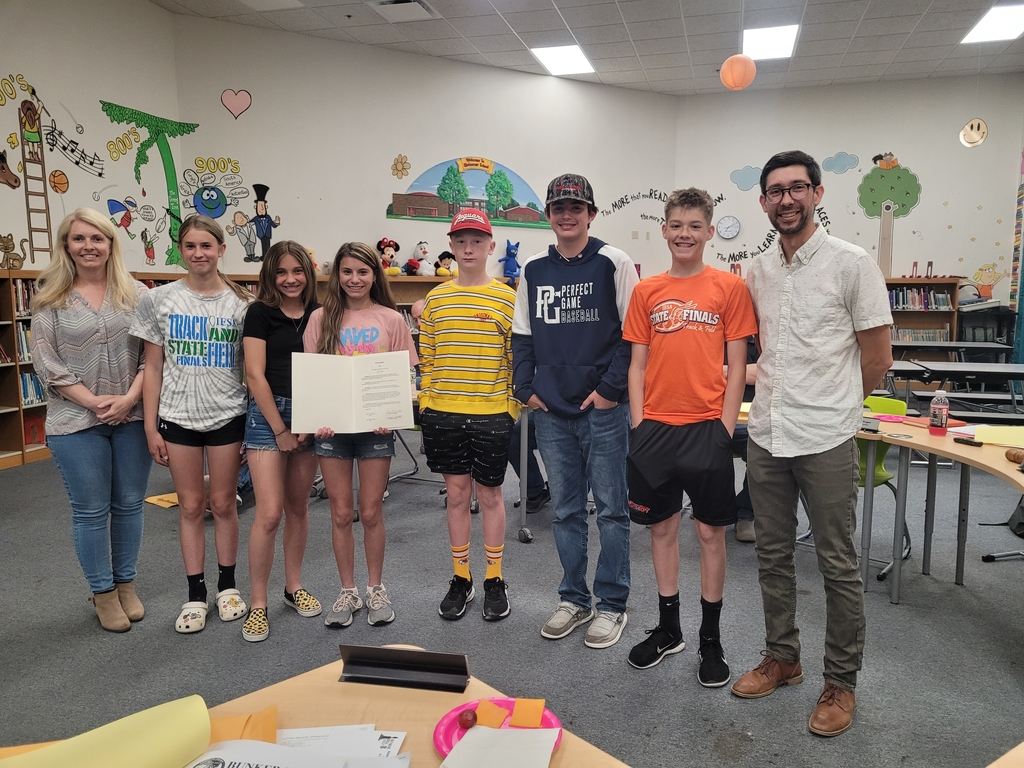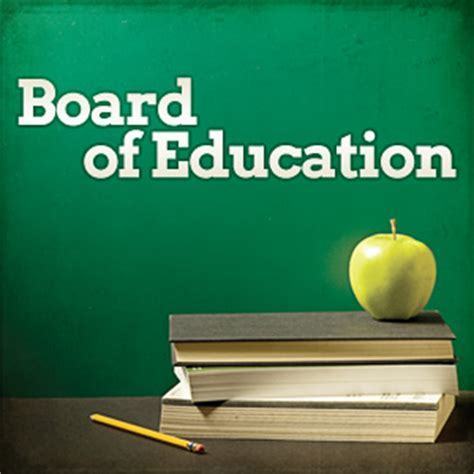 Elementary and Junior High Events: Monday, 5/16 = Tuesday, 5/17= 8th Grade Field Trip Wednesday, 5/18= Thursday, 5/19= Last Day for PreK Kindergarten Farewell-6:00 at Wolf Ridge WR vs. BHHS Staff Volleyball Game at 7:00 at BHHS Friday, 5/20= 6th&7th Grade Awards at 1:00 at Wolf Ridge Monday, 5/23= Last Day of School 2:00 Dismissal

Congratulations to BHHS L&C Silver Medallion winners! #BHill8 is proud of Kaydn, Karli, Abby, Kyla and Drake!

BHHS Teacher Mr. Doug Banwart just announced as the Teacher of the Year at Lewis & Clark's Silver Medallion of Academic Excellence ceremony! Congratulations on this honor, Mr. Banwart #BHill8

Reminder: Join us tonight for an Informational Meeting on re-starting a Bunker Hill Activity Booster! While fundraising is always a part of Booster Clubs, this club is looking to bolster community and school pride. All are welcome, so bring your ideas and consider volunteering to serve! Tonight at 6:30 PM at the BHHS Multipurpose Room.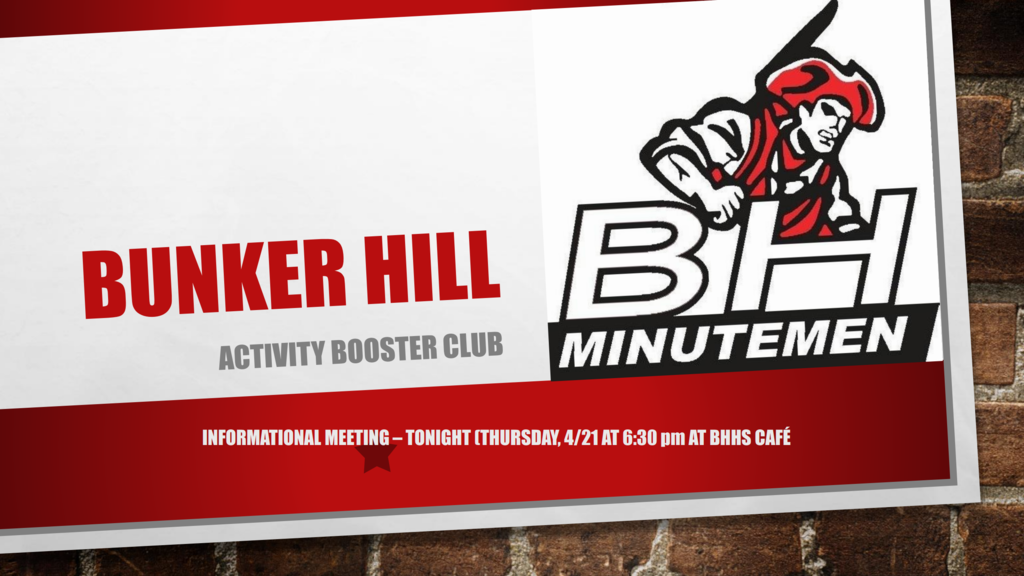 Tonight: Regularly scheduled Board of Education meeting at 7:00 PM at Wolf Ridge. For agenda click:
https://bit.ly/3Ey3kez