Things are moving and shaking here in the district! Yesterday marked the official groundbreaking for the upcoming Junior High wing of Wolf Ridge. This is the first time BHCUSD has broke ground in over 20 years. Thank you all who have helped us kick off this exciting improvement! #bh8rising #bhcusd8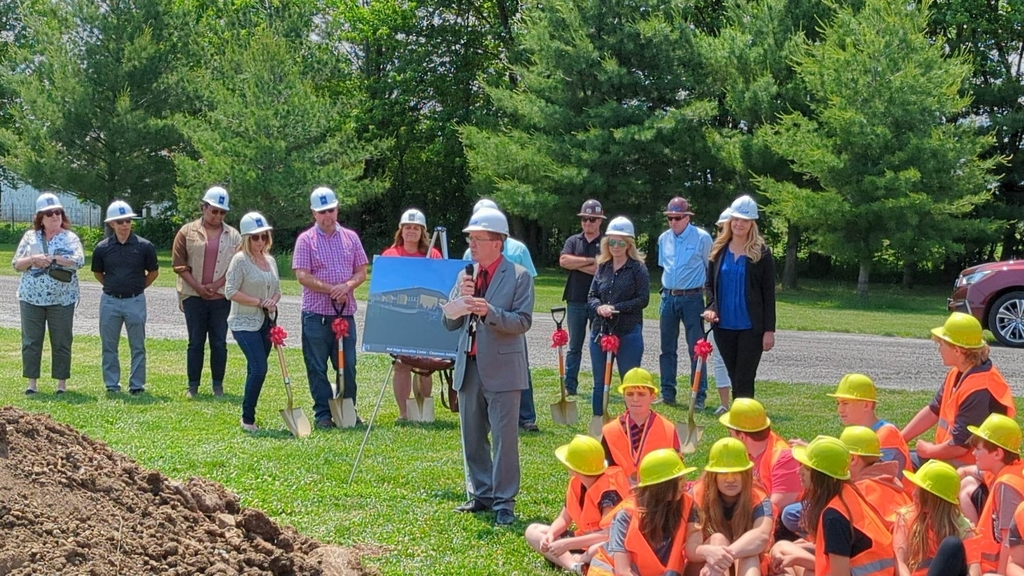 We have added positions to our job posting and would be happy to answer any questions you may have! 618-585-3116. Apply here >>
https://bit.ly/3O3Bj5C

Join us tomorrow (Thursday, 5/25) at 2:00 PM outside of Wolf Ridge for the groundbreaking ceremony for our new Middle School Addition! #inspire #empower #innovate
The district is buzzing with graduation vibes! Check out this delicious senior breakfast our Food Service Director, Shelly Wuellner and her team whipped up!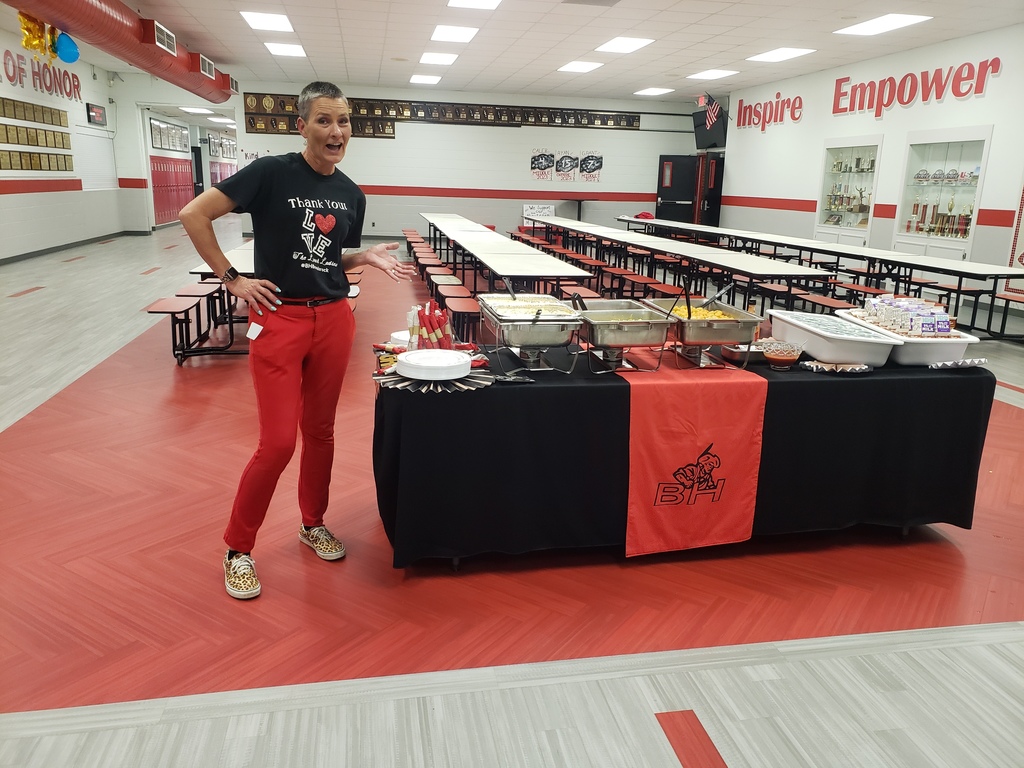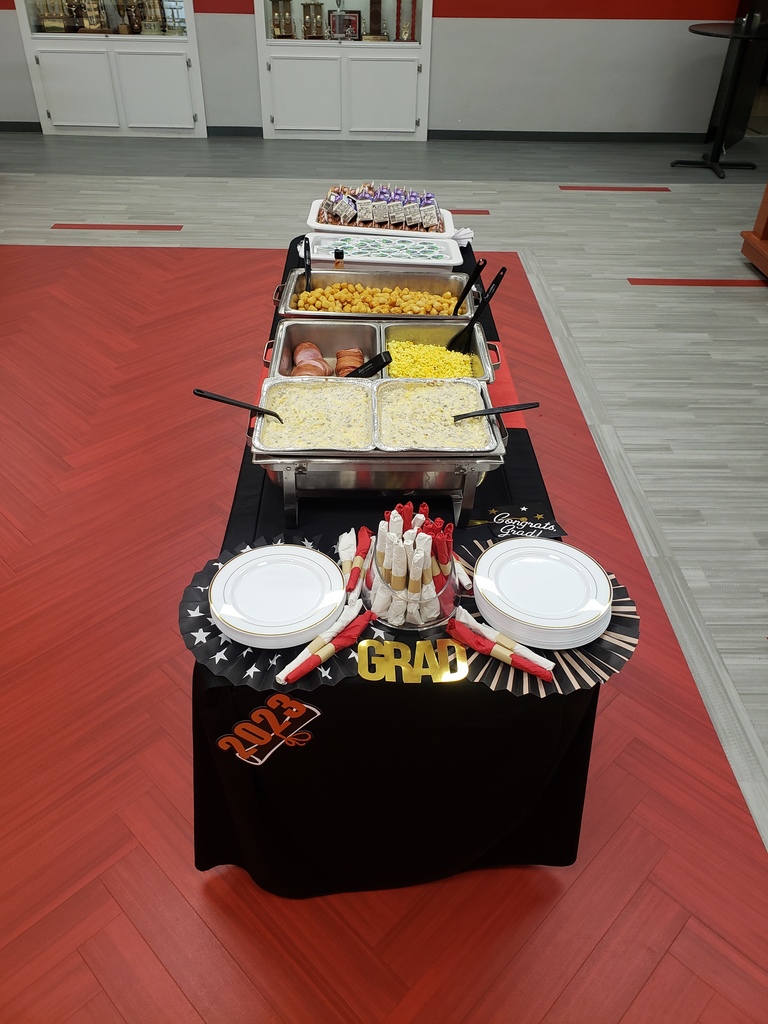 Wolf Ridge is moving on up with a new addition! Mark your calendar and please join us for a ground breaking ceremony to celebrate this exciting, new development in the district!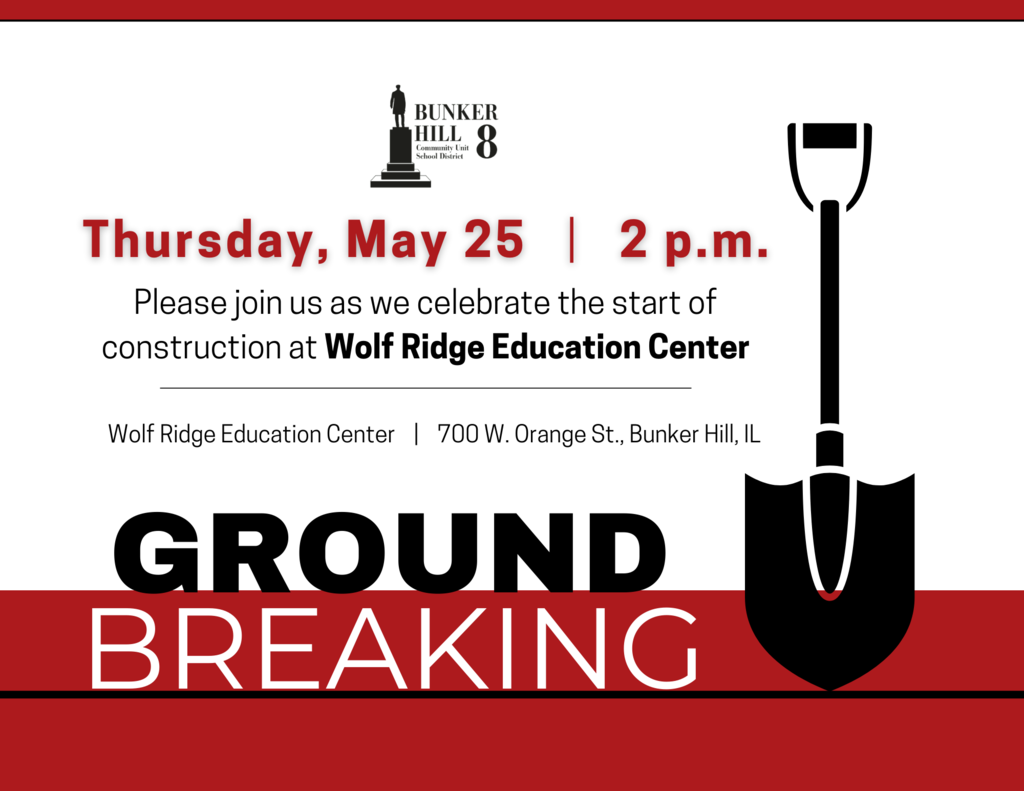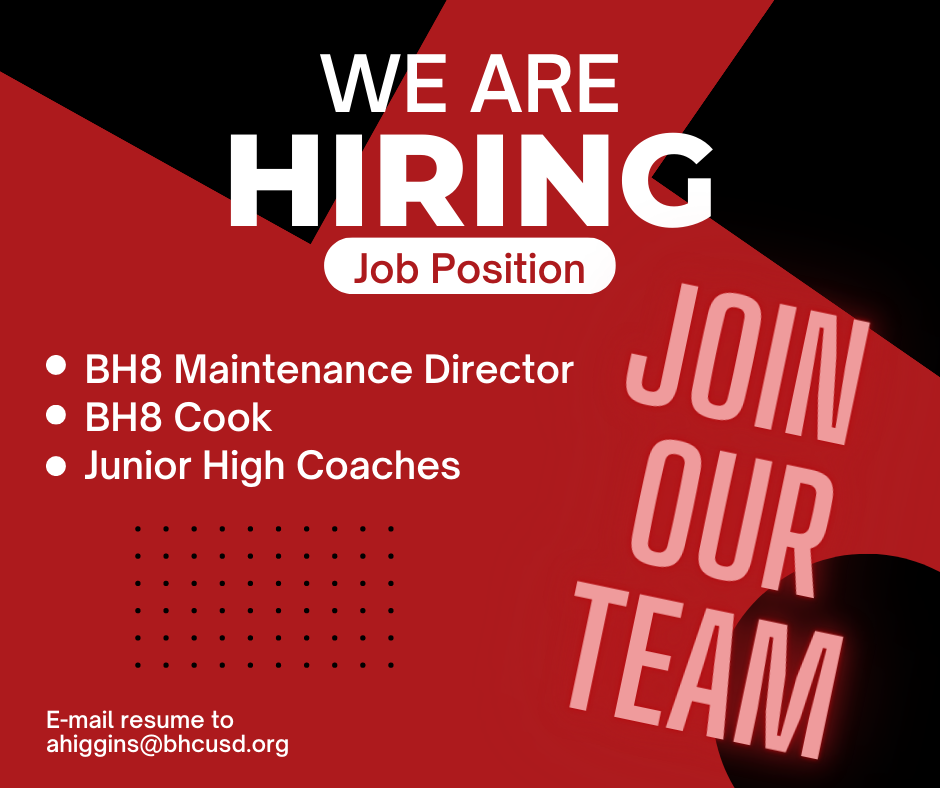 FROM THE MACOUPIN COUNTY HIGHWAY DEPARTMENT: Repair of the bridge on the Staunton-Bunker Hill Road over the West Fork of Cahokia Creek is scheduled to begin on Monday May 15, 2023. Staunton-Bunker Hill Road will be closed to all traffic approximately 1/2 mile west of Mile Road. The closure is expected to last approximately two months. Please use alternate routes during the closure.


BHHS Events 4/17-4/21/2022: Boys' Volleyball: 4/17 - Monday - vs. Granite City - Home 5:00 PM 4/18 - Tuesday - vs. Father McGivney Home 5:00 PM Track: 4/18 - Tuesday - vs. Southwestern - Away 4:00 PM 4/19 - Wednesday - vs. Gillespie - Away 4:30 PM Boys' Tennis: 4/17l - Monday - vs. Metro East Lutheran - Home 4:00 PM Girls' Softball: 4/18 - Tuesday vs. Marquette - Home 4:30 PM 4/19 - Wednesday vs. Mulberry Grove - Away 4:30 PM 4/20 - Thursday vs. Marquette - Away 5:00 PM Boys' Baseball: 4/17 - Monday vs. E Alton-W River - Home 4:30 PM 4/18 - Tuesday vs. Marquette - Home 4:30 PM 4/19 - Wednesday vs. Mulberry Grove - Away 4:30 PM 4/20 - Thursday vs. Marquette - Away 5:00 PM 4/22 - Saturday vs. Carrollton - Away 10:00 AM

Message from BH8 School Nurse: BHCUSD received an allotment of BinaxNow test kits that were not utilized during the 2022-23 school year. These kits can also be used as at-home test kits. We would like to "clean out the Nurse's closet" before the end of the school year and share them with our families. These BinaxNow kits have two tests per box and are limited in quantity. Kits are available one per student and on a first-come, first-serve basis. Please complete the form at this link if you are interested in having a kit sent home with your student.
https://bit.ly/43tB0WK

WE ARE ALL BH MINUTEMEN & MINUTEMAIDS starting the 2023-2024 school year. Get your gear for the new year NOW! Click on the link to order:
https://bhwolfridge23.itemorder.com/
Orders are due by April 25th.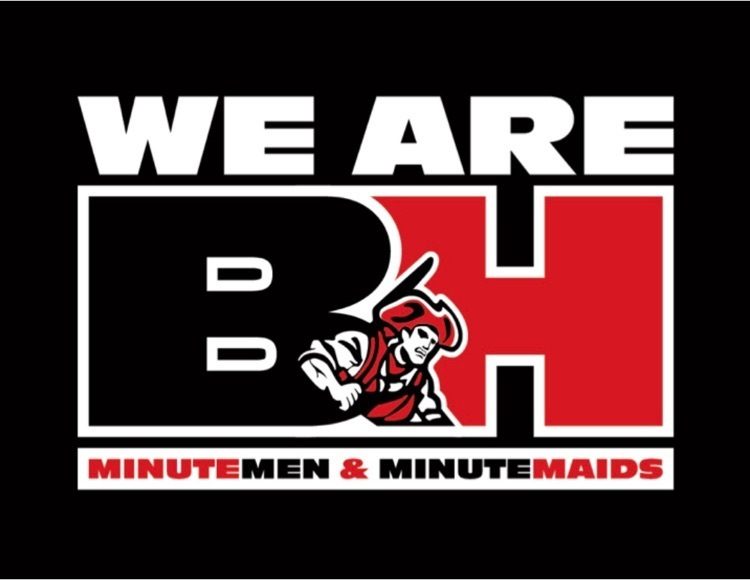 Bunker Hill CUSD #8 believes ensuring student and staff safety is its top priority. As such, the District Administration has been, and will continue to, monitor this spring weather event that has the potential for severity. However, the district also understands sending children home early to possibly empty homes present other challenges. This afternoon's weather patterns are based on a forecast that while often accurate, is admittedly limited in confidence. As a result, we will continue to monitor this wave of storm cells forecast to enter the area at an unknown time this afternoon or early evening. In the meantime, school will still be dismissed at 3:10 PM. If this should happen to change, parents will be notified via text as soon as possible.

Mr. Dugan and some of the High School students showed the Junior High Game Club how to play the card game Magic: The Gathering today.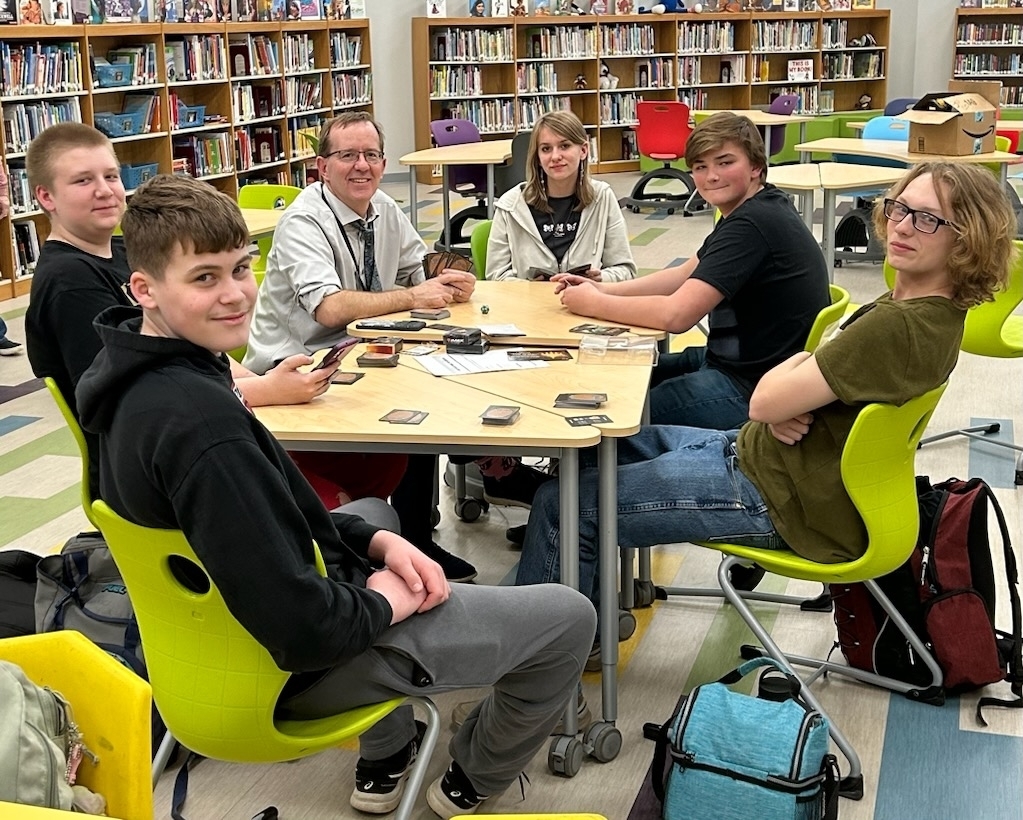 Attention Coaches! Join the #BHill8 Team! If interested in any of the listed coaching vacancies, please apply today!

This morning (Wednesday, 3/8) at 10:30 AM, our district conducted an unannounced K9 sweep of the BHHS campus in order to detect and deter possession of substances violating our Student Handbook and Board Policies. As you can probably understand, in order for this operation to be effective, it was impossible to notify parents/guardians in advance. K9 sweeps have always been, and will continue to be, unannounced but families will always be notified afterward. As a result of the sweep, students were asked to remain in their classrooms for approximately one hour while law enforcement conducted a very thorough search. However, at no point during the sweep did students have contact with the dogs. Although cannabis (marijuana) has been legalized in Illinois and other states, it is not legal for those under the age of 21 and it is absolutely not allowed at our schools. Today's efforts were a coordinated effort two months in the planning, and required a significant amount of manpower, both from our own administrators at Bunker Hill CUSD 8 and our law enforcement partners at the Illinois State Police, Carlinville Police, the Macoupin County Sheriff's Office, and the Bunker Hill Police Department. Although we wish it wasn't necessary to even consider these types of proactive measures, we are committed to ensuring that our school district remains the safe and healthy environment for our students and staff deserve. Thank you in advance for your understanding and continued support of our schools.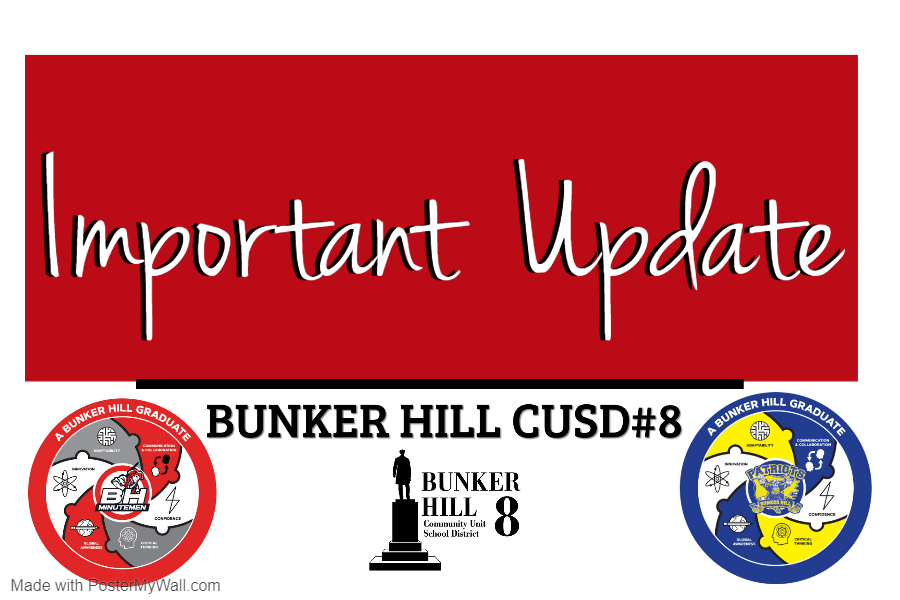 Check out BHHS Career Fair coming up on April 14th!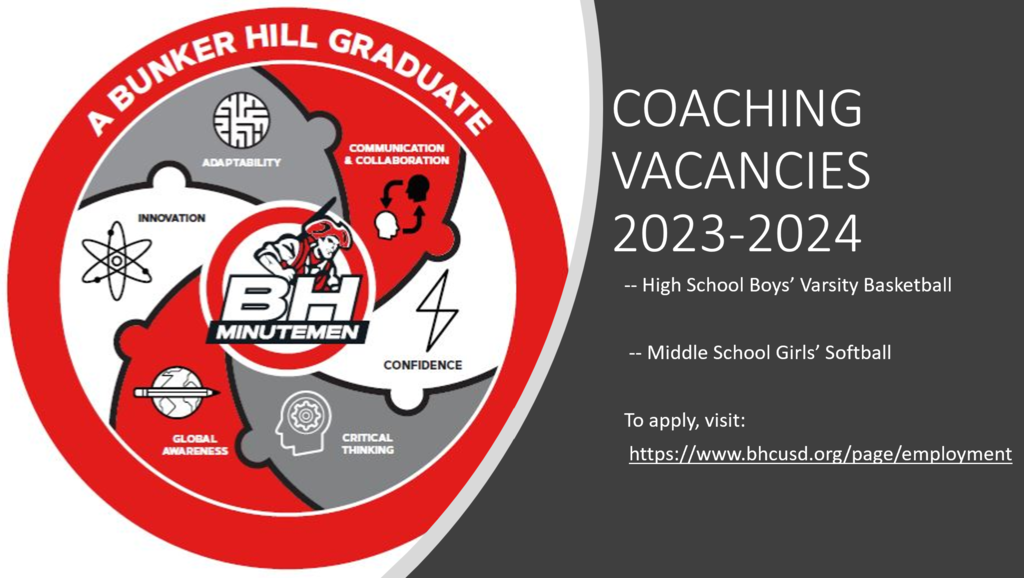 Any #BHill8 athlete participating in the BHHS Trap Team, see the attached opportunity to obtain the needed Safety Education Course prior to the season. Also open to anyone from the BH community!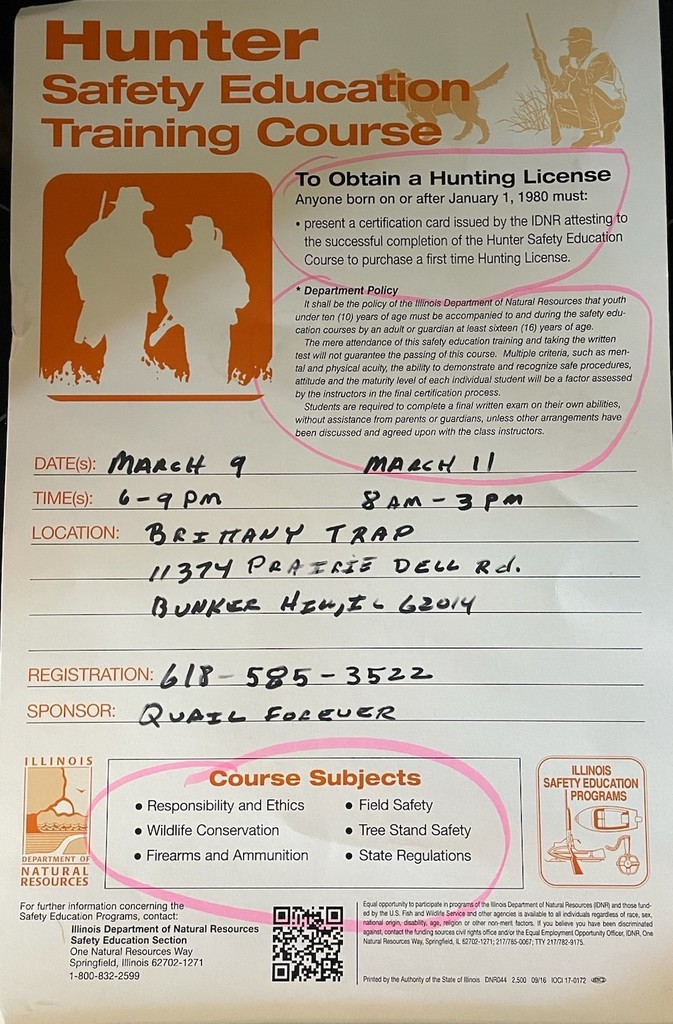 At its regularly-scheduled February meeting, the Bunker Hill 8 Board of Education approved the 2023-2024 school calendar for BH8 schools. This calendar is being shared with families early to assist with planning vacations, trips, appointments, etc.
https://5il.co/1phw2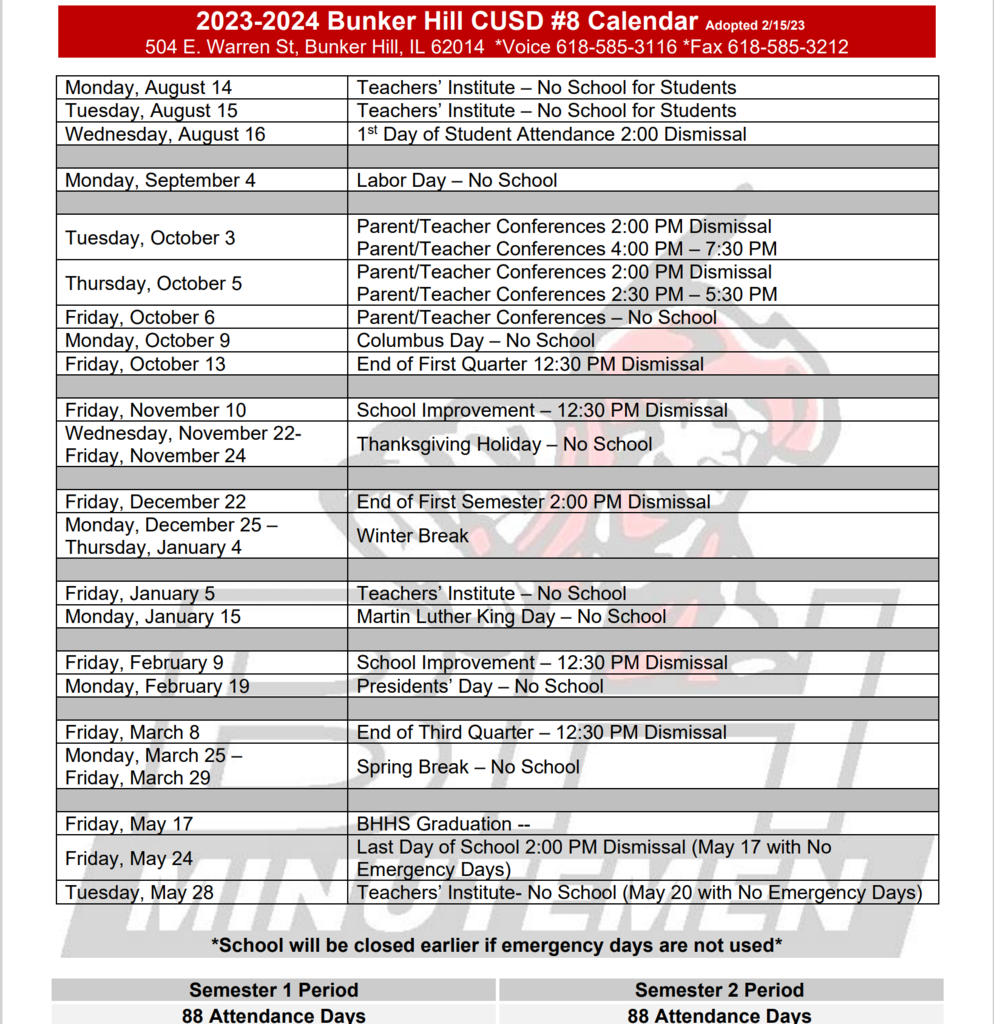 Join the Bunker Hill CUSD #8 Team! We currently have coaching and certified teaching vacancies for next (2023-2024) school year. We also have a leave of absence and a coaching opportunity for this year. For more information, please visit:
https://www.bhcusd.org/page/employment